In anticipation of the impending kitchen reno (that still hasn't started....) Jake and I walked around Home Depot and Lowe's pricing things out.
While there, we were looking at tile for the back splash. We are using white subway tile for the wall but have been going back and forth about a stripe of glass tile. I haven't found any I'm just overly in love with, considering our color scheme and the vibe of our house..... until today. I'm in love: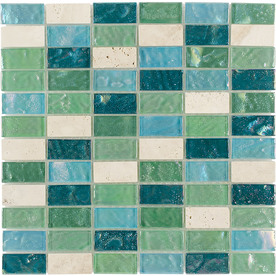 We'll do a narrow stripe, probably two-thirds of the way up from the counter to the cabinets, with subway tile on either side. Considering the walls above the cabinets and where there isn't tile will be a light grass green and the accents in the kitchen include turquoise (and red. and yellow. and basically any color because I love COLOR), it is perfect. Or as my campers would say - puhhhrrfect.
Note: Here's the link to the tile from Lowe's.