Pre-baby in my belly, I would dream about nurseries - what I would do, how I would decorate. I had tons of pins on the ole' secret Pinterest board - I'm an information gatherer by nature so I have to research research research.
Yet now that it is time for an actual baby to be in an actual nursery, my ideas don't involve any of the themes I loved (major contenders were a zoo theme or no theme at all). One day I was in my guest room and glanced at a world map painted on canvas I bought at Home Goods 3 years ago (blogged about it
here
) and decided to use it in the nursery.
From there, I started piecing things together in my head. A few months ago, right when
we found out we were preggo,
I saw a mid century modern dresser at Bargain Furniture Warehouse, a super discount second hand furniture store here in town. I had seen it on their facebook album months prior and loved it but had no use but when I saw them post it again, I immediately sent Jake to fetch it (bless his heart...). At the time, I am pretty sure our folks thought we were crazy for buying MORE bedroom furniture (in September we bought an antique guestroom suite off Craigslist that we still haven't set up...) but now I think they know why we did it!
Working with the world map, the oak trim of the room, and the similar wood toned dresser and side table recently acquired, I created an inspiration board to visualize how Baby Jasper's nursery might shape up. We don't know gender but I'm pretty much a fan of this for either a boy or a girl - maybe more whimsical girly touches if it is a girl...
I really didn't want to buy too much baby-specific furniture and I want it to feel like a fun and youthful extension of the rest of our house's decor. Here are the details:
1.
Our floor and trim are a honey oak in the whole front of the house, so any paint color/decor needed to complement the wood tones.
2.
I've been thinking about using a light cool gray in the room. This is Sherwin Williams March Wind - check it out in this room (scroll to bottom of blog post):
http://www.vintagerevivals.com/2012/04/interview-with-sherwin-williams-color.html
3.
On the wall opposite the giant canvas, I want to do a grid of smaller city pictures. If it is a girl, I love these city prints by Etsy artist
Evelyn Hensen
: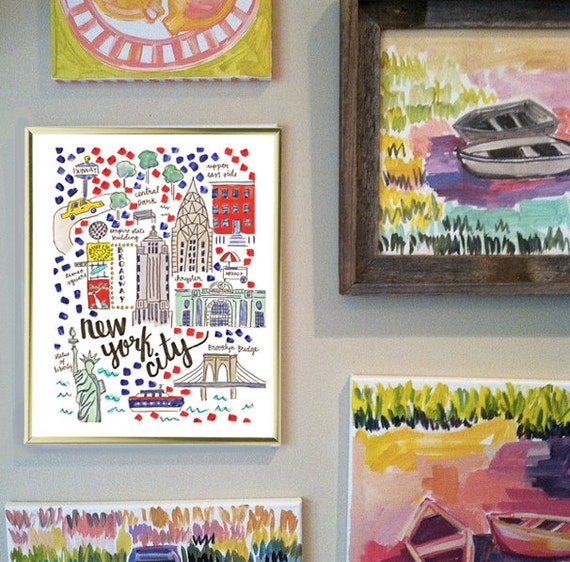 If it is a boy, we'll do something a little more masculine. Pictured in the inspiration board is a canvas I have of San Francisco - they are a bit pricey but I could do two or three more of those from Etsy artist
Laura Amiss
. I also like
Helen Robin
's more masculine graphic prints too: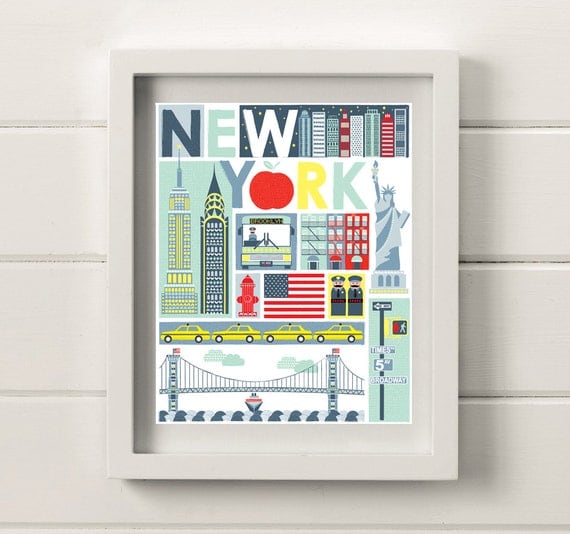 4
. I picked this Target gold/yellow rug (it is online only and is on my registry) because my friend Elise has the grey version at her house and loves it! It is an inexpensive rug and I think with a pad under it, will do the trick in a house with dogs and a new little one..
http://www.target.com/p/threshold-fretwork-rug/-/A-14318370
5.
We have a narrow but tall armoire in our bedroom currently (similar to the one pictured above) that we will be moving up to the nursery. Depending on how much clothes storage we need, it may be a toys and books closet or it may hang clothes. It currently has black/white toile fabric for the panels but I want to staple in chicken wire spray painted gold. Here it is back when we painted it red:
http://www.makinitinmemphis.com/2010/09/project-armoire-finished.html
6.
We'll be using our grey Lane recliner arm chair from the den in the nursery instead of a rocker or glider (but we do have a rocker so if the recliner is too big, we can use that...)
7
. The world map from Home Goods that inspired it all..
8
.
Jenny Lind crib in Lagoon
(I swoon....)
9
. Going to make curtains - currently thinking about using a yellow buffalo check fabric. Need to find the fabric in stores somewhere.... We have white roman shades in the windows.
10
. Not the exact dresser but very similar to the one we purchased second hand...
So those are our dreams for the nursery right now! We've got a lot of cleaning/purging/organizing to do before we bring in the paint cans and brushes....
In design inspiration,