You should know that I research. I research purchases. I will read Amazon reviews, scour the web, and then pounce on something when I see it because I've thought ahead and know exactly what I want. It is just how I am.
Additionally, I don't like spending a lot of money on something. I know that there are things that you should spend money on (and when it comes to safety I do spend money) but a bag to me just isn't something I want to spend money on.
But then it isn't just a bag. It is RUTHIE's bag. And then I get all sentimental and gooey and want the best and cutest for little Ruthie.
So I had some choices/thoughts...
After researching, reading, trolling the interwebs, scoping out the bargains, I came up with five sensible options:
Each very different, the major things I looked for in basic bag needs were insulated bottle pockets, interior and exterior zip pockets, ability to carry on shoulder, and ratings/reviews. What I needed to figure out, once I narrowed it down, was what style really was "me" for my Ruthie bag.
I liked the Skip Hop Chelsea and the Beeba for their sophisticated look. I liked the JP Lizzy for being the non-diaper bag. I liked the Skip Hop Grand Central for being colorful but business. And then there was the OiOi Messenger. Even though I had been anti-pattern the whole time, this pattern screamed girly but sophisticated to me. And I actually liked the messenger look for a diaper bag. I was pretty surprised to be leaning towards the OiOi.
And then fate intervened. Overstock.com didn't have any reviews of the OiOi bag, so I looked on Amazon. Not only did they have reviews, but the bag was down from $120 (original price) to $39 (Amazon price), which was better than the $89 price from Overstock. All things considered, it seemed like something I had to jump on!
I put the OiOi bag in my cart and then decided to turn my attention towards Jake's diaper bag. With such a girly print, I knew he'd need his own. Plus, Sheryl Sandberg says in "Lean In" to make your partner an equal, so he
needed
his own.
Originally, I considered the Skip Hop Messenger for him but during the Great Diaper Bag Search of 2014, I found the Trend Lab Ultimate Diaper Bag, which included great reviews, a $29 price tag, and came in UT colors (grey/orange):
So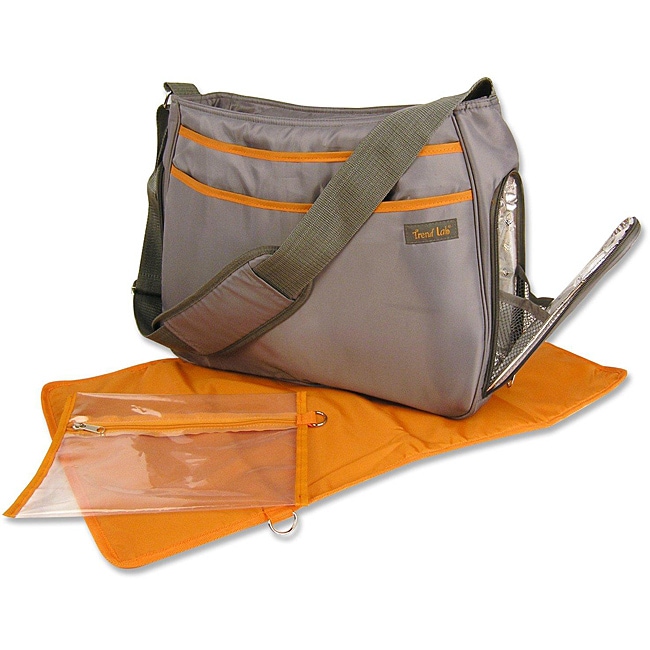 So, folks, that's how I managed to get two diaper bags in one night, moving from frozen indecision to in the mail with the click of the mouse. And in the process of researching and jumping on what I saw, I got both bags for less than I would have paid for one!
In preparing for Ruthie,