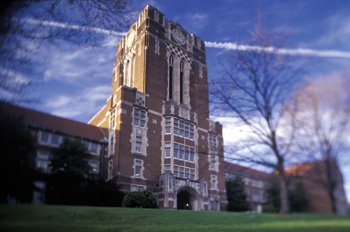 So, today I found out that my brother has finally decided on what school to go to. Making it so that both my baby brothers will be Volunteers in the fall. Talking with him over dinner, I started thinking about college. I loved going to the University of Tennessee. I know a lot of people were judgmental, thought it was a poor choice academically for me, and so on but honestly when it came down to it, I knew as soon as I got on campus that it was meant for me. Oh and the scholarship didn't hurt either:)
My experience at UT was invaluable for many reasons. When I went off to college, coming out of high school I was not one to be involved in many things - I had tried to seek leadership positions and could never get one for some reason. Once I got to college, I finally found an environment where I could be the leader I wanted to be. I also found a great group of friends that had the same interests and humor as me. Being on Panhellenic Council, an Orientation Leader, in SAA, and more really shaped me into who I am now. I am much more comfortable with who I am than I ever was.
I also left the school with so many great relationships. In addition to my relationship with Jake continuing to blossom throughout our time there, I met many people that I can solidly say are some of the best people I know. I just got off the phone with Beth, who I was friends with starting my spring sophomore year and is probably one of the people I got the closest to at UT. I miss her terribly because we just really "get" each other. I also got close to Eric, someone that is so intelligent and has the best conversations with me. I love when we talk on the phone now. With both of them, when we are back together we don't skip a beat. In addition, I was lucky to have a friend from high school that I got to know much better through UT - Rachael. From crazy freshman year to our apartment our Master's year, she is someone I always want to have around.
Thinking about UT and my experiences, I hope for my brothers that they have just as great of a time as I did. I feel like UT is one of those places that fits the phrase "you make your experience what it is." You can goof off, choose easy classes, and party and get a sub-par education. You can also seek out the best educational opportunities, go to class and participate, and leave prepared for the real world more so than most other places. You can stay in your room and play X-box and complain about having no friends or you can get out and join organizations and meet people with similar interests.
Going through some of my favorite memories, I hope that Jacob and Ezra have just as much fun and learn just as much as I did at UT. I hate that just when I get back in Memphis, they leave for college. Some of my favorites...
- Walking around the campus at 4AM after writing a paper for Honors World History
- Going to my first football game ever and leaving halfway through due to heat, then lying on the tile floor in presidential waiting for the soft serve ice cream to open
- being selected to be an Orientation Leader, meeting at the Torchbearer that first morning at 5AM with it snowing
- going on my senior cruise with 11 other sorority sisters, something that I never would have imagined doing but loved
- traveling to University of Georgia, University of Alabama, the Georgia Dome, Vandy, and more for away games with friends
- standing at the bottom of Panhellenic looking up at every member of every sorority during Gamma Chi roll call on Bid Day
- going to my first education class and realizing I truly enjoyed debating issues of education
- laying out on the roof of Humes with Emily almost every day the spring of my freshman year
- brushing my teeth every morning next to my sorority sisters on Massey
- porch days at 1312 White Avenue
- doing the Rocky Top dance 17 times for orientation sessions
- eating at too many restaurants on the strip to name!
- discovering horseshoes at Toddy's... and discovering I should stick to watching
- random outlet mall trips... too many times!
- All Sing, Carnicus, Homecoming, and more
- hanging out in the Tyson House with SAA... most beautiful building on campus
- and... meeting Governor Bredesen while working in the Office of the President my junior and senior year: hanging out on the 8th floor of Andy Holt with the big wigs!
I'm sure there are many more.. 5 years flew by so fast! Jake and I have decided to name the kitty after something UT-ish. Once we get him, I'll post a picture and let you know what name we decide! I love life in Memphis but I do miss UT and Knoxville a lot. But I do get to go visit Jacob and Ezra now for 4 years!!!